For Father's Day, this dad just wants a cure for his daughter
Friedreich's ataxia has stolen a young woman's ability to walk and threatens her life, but an Indianapolis doctor is helping to develop a treatment.
06/17/2018 04:42 PM
1 dead and 22 injured after gunfire at New Jersey art festival
Shooting occurred shortly before 3 a.m. Sunday at community cultural event in Trenton, N.J.
06/17/2018 10:20 PM
Road rage shooting in Colorado leaves boy dead, mom and brother critically wounded
A woman and two of her children were shot point-blank in a suburban Denver office parking lot, killing one of the children, police say.
06/17/2018 06:39 PM
China tariffs on U.S. soybeans could cost Iowa farmers up to $624 million
An escalating U.S.-China trade dispute could cost Iowa soybean farmers as much as $624 million, depending on how long tariffs are in place and how quickly farmers can find new markets for their soybeans.
06/17/2018 02:47 PM
Homeland Security chief Kirstjen Nielsen denies policy separates families at border
Homeland Security Secretary Kirstjen Nielsen took to Twitter to vehemently deny claims that her department's border policy dictates separation of children from their families. "We do not have a policy of separating families at the border. Period," Nielsen tweeted late Sunday.
06/18/2018 01:03 PM
This school receptionist's stunning version of 'At Last' is how we all feel about summer
A North Carolina high school receptionist sang a stunning version of Etta James' "At Last" over her school's public address system on her last day of work before summer break, and the video is gaining national attention.
06/17/2018 12:00 AM
Multi-state salmonella outbreak linked to Kellogg's Honey Smacks cereal, CDC says
At least 31 states have been affected by the salmonella outbreak linked to the cereal, according to the Centers for Disease and Control. The company announced the recall on Thursday, June 14.
06/18/2018 12:51 PM
Border policy defended amid protests
Nearly 2,000 children have been taken from their parents since the Trump administration announced its "zero tolerance" policy against people illegally entering the U.S. Border Patrol Sector Chief Manuel Padilla calls the separations temporary. (June 18)
06/18/2018 12:39 PM
Who is missing out on economic recovery? America's 30 poorest towns
To determine America's poorest towns, 24/7 Wall Street reviewed household income data from the U.S. Census Bureau's American Community Survey in every American town with a population between 1,000 and 25,000.
06/18/2018 12:37 PM
Giant Hogweed, a plant that can cause burns and blindness, found in Virginia
Officials in Isle of Wight County, near Norfolk and Newport News, posted a warning on Facebook about the plant, which can grow to almost 15 feet.
06/18/2018 12:31 PM
What are America's richest towns? New study lists the top 30
To determine America's richest towns, 24/7 Wall Street reviewed household income data from the U.S. Census Bureau's American Community Survey in every American town with a population between 1,000 and 25,000.
06/18/2018 12:27 PM
FBI agent who sent anti-Trump texts wants to testify on Capitol Hill
A letter from FBI agent Peter Strzok says that he will testify before the House Judiciary Committee.
06/18/2018 12:21 PM
Your state-by-state guide to sports betting in light of Supreme Court ruling
While the U.S. Supreme Court in May opened the door for sports betting to become legal, it may be at least a year before that occurs in most states
06/11/2018 08:38 PM
Deputy accused of sexually assaulting child, intimidating her undocumented mom into silence
A Sheriff's deputy is accused of sexually assaulting a four-year-old girl and intimidating her undocumented mother into believing she would be deported if she reported the abuse, according to the Bexar County Sheriff's Department.
06/18/2018 12:18 PM
It turns out hangry is a real emotion
We all know being hungry messes with your mood and emotions, people tend to be more irritated and annoyed aka hangry. buzz60's Maria Mercedes Galuppo has more.
06/18/2018 11:50 AM
Flash flooding wipes out roads, damages buildings in Houghton, Michigan
Storms moving across the Upper Peninsula washed out several roads in the Houghton and Hancock areas and created dozens of sinkholes across the Keweenaw Peninsula.
06/18/2018 12:24 PM
Music stars shocked by Jay-Z/Beyonce album
MTV Movie and TV Awards attendees - including Tessa Thompson and Lil Yachty - react to surprise release of joint Jay-Z and Beyonce album. (June 18)
06/18/2018 11:37 AM
Raw: Train derails, catches fire in southwest Indiana
A train derailed in southwest Indiana on Sunday night. Some train cars caught fire. CSX says preliminary reports show that a rail car carrying propane had a release. WEHT-TV reports that people within a mile of the wreck were told to evacuate. (June 18)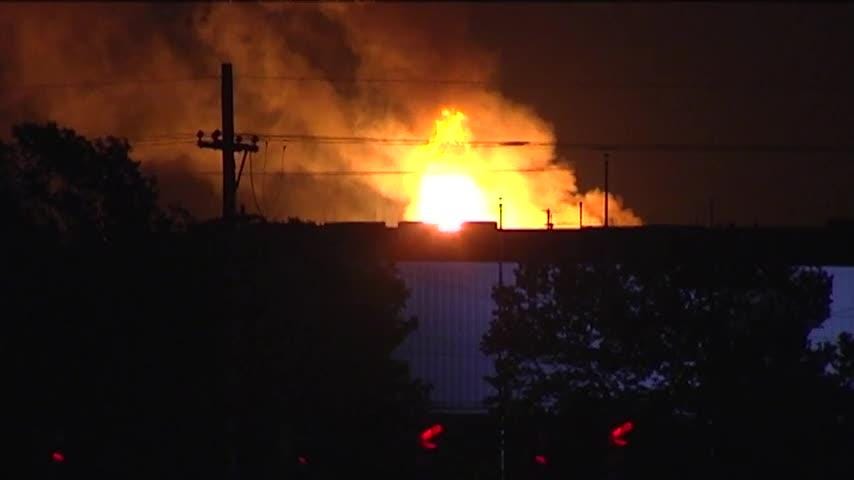 06/18/2018 11:24 AM
AP Top Stories June 18 A
Here's the latest for Monday, June 18th: Border patrol defends separating parents, children; SUV suspected of carrying people in US illegally crashes, killing 5; Strong earthquake rocks Osaka, Japan; NJ officials say fights plagued arts festival.
06/18/2018 11:17 AM
Train derails in Indiana forcing mandatory evacuation
A train derailment in Princeton Sunday night has closed U.S. 41 in both directions.
06/18/2018 11:04 AM
Roger Stone admits to meeting a Russian during the campaign
Former campaign consultant and close associate to President Trump, Roger Stone, admitted to meeting with a Russian man in May 2016 claiming to have "dirt" that could help Trump be elected. Veuer's Maria Mercedes Galuppo has more.
06/18/2018 10:43 AM
ShowBiz Minute: Hardwick, 3 Doors Down, US Box Office
AMC Networks: Chris Hardwick's talk show on hold amid allegations; Ex 3 Doors Down bass player arrested; drugs, weapons found; "Incredibles 2" crushes animation record with $180 million in the U.S.. (June 18)
06/18/2018 10:42 AM
Majority of Americans skeptical of North Korea denuclearization
President Trump says he is confident denuclearization will happen in North Korea, but according to a new ABC News/Washington Post poll many Americans disagree.
06/18/2018 10:33 AM
Raw: Suspected smuggling vehicle fatal Texas crash
The US Border Patrol says the SUV that crashed in South Texas, killing at least five people, was being chased by an agent who suspected it was part of a "smuggling event." 14 people were in the SUV, many suspected of being in the US illegally. (June 18)
06/18/2018 10:31 AM
Kardashian West shines on MTV red carpet
Kim Kardashian West, Kris Jenner, Chadwick Boseman and Tiffany Haddish were among the stars who walked the red carpet at the MTV Movie and TV Awards in Santa Monica. (June 18)
06/18/2018 10:27 AM
'Shadow of the Tomb Raider' balances darkness and light
The team behind upcoming video game "Shadow of the Tomb Raider" discuss what fans of the franchise can expect from Lara Croft's latest journey. (June 18)
06/18/2018 10:22 AM
US temperatures rise over last three decades
Temperatures across the United States are up 1.6 degrees Fahrenheit in the past 30 years. In Salida, Colorado, residents have noticed the change through more lawn watering, increased air conditioning sales and bigger fires. (June 18)
06/18/2018 10:21 AM
2 shot, gunman dead outside Wash. state Walmart
A gunman injured a teen and shot a man in a pair of carjacking attempts Sunday, before being killed by a bystander outside a Washington state Walmart store. Police say a bystander killed the gunman. (June 18)
06/18/2018 10:15 AM
June political cartoons from the USA TODAY NETWORK
06/17/2018 02:32 PM
The day in pictures
06/17/2018 04:12 PM
The people who witnessed MLK's assassination
04/04/2018 06:53 PM
Crime is on the rise in these 10 cities
03/10/2018 03:12 AM
US skyscrapers: Tallest building in every state
03/06/2018 02:21 PM