Sen. Susan Collins says 'no' to Graham-Cassidy bill, essentially killing Obamacare repeal
Collins' announcement came just after after the nonpartisan Congressional Budget Office released a limited analysis of the bill.
09/25/2017 11:41 PM
Analysis: This is a major political week for Trump. But his NFL feud is overshadowing his agenda
Trump has perpetuated the NFL flap for four straight days – when he was expected to make a push for health care, tax reform, and Luther Strange.
09/25/2017 10:48 PM
North Korea threatens to shoot down U.S. planes, says Trump has declared war
The doctored footage came hours after U.S. warplanes carried out a show of force.
09/25/2017 07:51 PM
Alejandro Villanueva: I threw Steelers teammates under bus unintentionally by standing for national anthem
Alejandro Villanueva said he did not intend to be outside the tunnel for the anthem but did not want to move once it began.
09/25/2017 11:33 PM
Democrat Elijah Cummings begins probe into Jared Kushner's private emails
In a letter, Rep. Elijah Cummings of Maryland asked Kushner to "preserve all official records and copies of records in your custody or control."
09/25/2017 10:21 PM
Survey says Americans oppose NFL players being fired over protests
Cato Institute released the results of a survey looking at how Americans feel about President Donald Trump suggesting players be fired for protest.
09/25/2017 10:26 PM
Analysis: Trump's approach to sports breaks with long bipartisan tradition
Previous presidents have recognized championship sports teams as a way to unify the country around ideals of excellence, persistence and teamwork.
09/25/2017 11:28 PM
Prince Harry and Meghan Markle photographed together for the first time
The prince and his American actress girlfriend make their romance plain at the Invictus Games.
09/25/2017 08:32 PM
Former Memphis police officer arrested outside White House on weapons charges
A former Memphis police officer was arrested near the White House on Sunday when police found 20 guns, including several assault-style weapons, in his car
09/25/2017 10:15 PM
'It's like the end of the world' inside San Juan's steaming airport
Airlines have canceled dozens of flights over the past week, and many people are sleeping inside the terminals.
09/25/2017 11:17 PM
Border crossers, and the deadly desert that claims so many of them
Thousands of migrants have died in the Arizona desert after crossing the U.S.-Mexico border illegally. Pima County helps identify their remains.
09/20/2017 11:41 AM
'I got bit!' I got bit!' Copperhead snake bites woman at LongHorn Steakhouse
A Virginia woman ended up in hospital for 11 days after being bitten by a copperhead as she entered a Fredericksburg restaurant.
09/25/2017 04:39 PM
Model drained of blood in murder, autopsy shows
Authorities in Los Angeles say the woman was tortured and mutilated.
09/25/2017 03:18 PM
Diego Luna talks the fury of Mexico City earthquake: 'The concrete looked like gelatin'
The 'Rogue One' and 'Flatliners' star talks about making it through Tuesday's deadly quake and the spirit of fellowship on the ground in Mexico City.
09/25/2017 07:08 PM
Anthem kneeling isn't aimed at veterans, and other NFL protest misconceptions
President Trump said the demonstrations have "has nothing to do with race." It's literally the opposite of that.
09/25/2017 08:52 PM
House stalls on tax relief for Hurricanes Harvey, Irma, Maria victims that Sandy victims did not get
Dems criticize GOP-crafted disaster tax relief package for providing victims of Harvey, Irma and Maria with benefits not approved after Sandy.
09/25/2017 11:37 PM
Here's how you can watch all local NFL games this year for free
Want to catch your local NFL games? Here's how to do it with just a simple HDTV antenna.
08/21/2017 08:14 PM
The VA conducts gruesome experiments on dogs, then kills them. Investigation draws outrage
The lapses in medical research projects on dogs at a VA in Virginia helped fuel a push in Congress to defund experiments nationwide.
09/25/2017 04:00 PM
How a mom changed genetic research and an Olympic athlete's life
She's not a geneticist, but her work changed the direction for genetics research.
09/25/2017 12:39 PM
Hurricane Maria: How you can help storm victims
Relief groups are rallying to reach out to people in communities devastated by the monster storm.
09/25/2017 07:24 PM
Aaron Judge sets rookie record with 50th home run
With a pair of home runs Monday, Aaron Judge broke Mark McGwire's 30-year-old rookie record.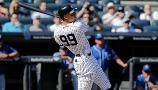 09/25/2017 11:42 PM
Montel Williams to Trump: We're not North Korea. NFL players can choose to take a knee.
This isn't about patriotism. It's about Trump dog-whistling to his base that a bunch of black athletes need to be put in their place.
09/25/2017 08:44 PM
Jimmy Fallon, Stephen Colbert and Bill Maher on Trump's inner dotard in Best of Late Night
Does Trump need defense from Kim Jong-Un's insult or a business plan? The comics offer a bit of both.
09/25/2017 03:20 PM
Donald Trump, divider in chief, tackles NFL
Attacking #TakeTheKnee and First Amendment has nothing to do with patriotism or love of country: Our view
09/25/2017 10:47 AM
Good call on the NFL, Mr. President
These athletes should be fired!: Opposing view
09/24/2017 10:53 PM
An honest review of Rihanna's Fenty Beauty makeup line
Did the singer-come-designer and beauty guru accomplish her goal of offering quality products with an option for all?
09/25/2017 09:44 PM
Coming up from the USA TODAY Network: Jersey icons, the American Dream, Monday Night Football preview
Coming up from the USA TODAY Network: Visit Jersey's Iconic diners, follow one player's path to the big leagues, and preview Monday Night Football
09/25/2017 10:54 AM
A killer's prison escape you won't believe
The story of Gary Tison's fateful final escape — from those who were there.
09/25/2017 04:35 AM
How to set up a new iPhone the right way
Don't ditch your old iPhone just yet.
09/24/2017 02:35 PM
The Wall: Untold stories along the U.S.-Mexico border
09/21/2017 02:06 AM
Day in celebrities
09/10/2012 03:37 PM
NFL players' national anthem protests
09/06/2017 04:04 PM
September political cartoons from the USA TODAY Network
09/01/2017 10:21 AM
Life in North Korea
02/16/2013 07:27 PM
How the conflict between President Trump and Kim Jong Un would look in text messages
A look back at eight months of rhetoric between the United States (mostly President Trump) and North Korea.
09/22/2017 04:22 PM